Tour Information & Tickets
The nonprofit American Cave Conservation Association (ACCA) operates Hidden River Cave and the American Cave Museum as part of our educational initiative to support the protection of caves, karstlands, and groundwater resources.
Have you ever seen the sun set 150 feet underground?
Once you enter the massive cave mouth, you'll pass through the drip line and over Thomas Platform. You will walk across the suspension bridge, through gaping passageways, and under high arching ceilings. The guided hour-long tour of Hidden River Cave ends at the climactic Sunset Dome, naturally highlighted in the beautiful orange and yellows of the sunset. Join us to hear how the cave is embedded in the history of the local city and the Kentucky Cave Country as well as see unique wildlife that live in the challenging underground environment.
Reservations are available but are not required for public, guided cave tours and include a tour of the American Cave Museum at no extra charge. The museum is open 8 a.m. – 6 p.m. daily and tours are scheduled each hour.
Our off-trail cave adventure tours require at least 48-hour advance reservation. Sturdy boots and well-fitting, warm clothing are required. Knee pads are strongly advised. Helmets and headlamps are provided free of charge. We hope you don't mind getting wet or dirty! Our off-trail adventures are not for the faint of heart.

The American Cave Museum and the Hidden River Cave sinkhole are handicap accessible. The descent into the cave travels down approximately 230 stairs to a landing. There are additional stairs to the bridge and up into Sunset Dome.

Both the museum and cave are also pet friendly!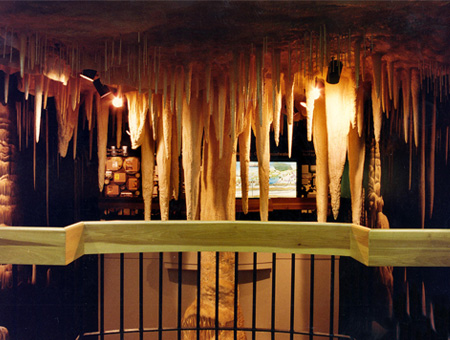 American Cave Museum Tour (self-guided)
Museum Entry (all ages) – FREE
Duration:
Self-guided, usually takes less than 1 hour.
About:
As you wander this unique museum and take a quick elevator ride to the cave's observation deck, you'll learn about the Karst geology, groundwater quality, the history of caving, archeological discoveries, cave wildlife, and cave formations.
Your admission also allows you to explore the nature area down to the cave entrance.Reservations are not necessary.
Click to learn more about our museum.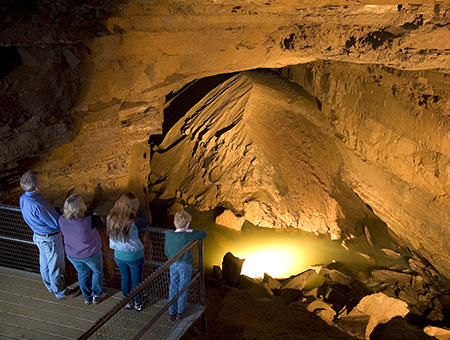 Guided Cave Tour
Rates:
Adult (ages 15+) – $25
Child (ages 6-14) – $12
Child (ages 5 and under) – FREE
Active Military (must have a valid ID) – FREE
Adult (ages 15+) With Active/Retired Military – $10
Child With Active/Retired Military (ages 6-14) – $7
Duration:
1 hour (can run 75 minutes based on group size)
About:
Guided walking tour of Hidden River Cave on man-made walkways, stairs*, and the world's longest in-cave swinging bridge
*Please be aware, the entrance and exit from the cave requires a stairway of approximately 230 stairs and is not handicapped accessible.
Reservations are not necessary.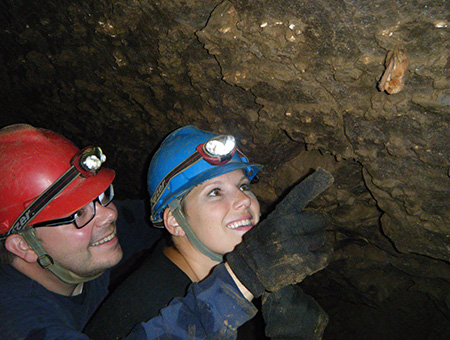 Off-Trail Cave Adventure Tour
Rates:
2-person minimum per tour (ages 10+)*
$53 per person for groups of 1-19
$43 per person for groups of 20 or more
Duration:
3 – 4 Hours
About:
A perfect introduction to wild off-trail caving! Be prepared to get muddy as you explore on your hands and knees. You'll see our cave as few have seen it before. This is a guided tour and includes, walking, crawling and scrambling over rocks.
Know before you go:
Boots or sturdy closed-toe shoes are required
Wear warm clothes, suitable for getting muddy
Knee pads suggested for crawling over rocks
Change of clothes suggested
We Provide:
*We may also be able to tailor this tour to fit your specific needs or to suit younger children. Please call us at (270) 786-1466 to discuss.
Reservations Required.

Download our Cave Adventure Tour Agreement
Educational, Group Tours & Special Events
Educational Tours:
Hidden River Cave and the American Cave Museum are proud to offer educational programs for students of all ages, scouts, summer camps and youth groups. Please visit our "Teacher Info." page for program descriptions.
Tours can be tailored to meet your specific needs and can include topics such as karst geology, archaeology, fossils, water quality and cave life.
To schedule or inquire about program availability, please contact Annie Holt, our Education Coordinator at (270) 786-1466 or email: annie@hiddenrivercave.com
Group Tours:
We are also happy to accommodate your group. Group visits include a guided cave tour into Hidden River Cave and admission to the museum. Group rates are extended to parties of 10 or more people. In order to qualify, all tickets must be purchased collectively. The group tour escort and driver receive complimentary admission.
Please call: (270) 786-1466 to schedule your group tour.
Special Events:
If you would like to have an event at the museum or cave, please call: (270) 786-1466 to discuss your needs.
Hidden River Cave & The American Cave Museum are operated by the American Cave Conservation Association,
A National 501 (c) 3 Nonprofit Organization.